Meetings
General Membership meetings – June 11, 2023, 10:00 am, July 30, 2023 – 10:00 am, Beatty Community Center
Lost Trail Run February 25, 2023
53 mile run- Line-up 10:00 am at the Stagecoach parking lot
Fun run set for March 18, 2023
Staging at the Stagecoach semi-truck parking lot, leaving at 11:00 a.m.
Second annual Poker Run- April 22, 2023
July 1 & 2 – Goldfield Art & Music Festival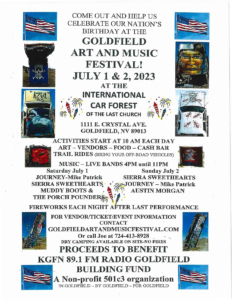 <--Click on the flyer for details!




July 4, 2023 – Beatty 4th of July Parade
Line up 10:00 am at the Beatty Elementary School
OHV Summit 2023
Sept. 20 – 22, 2023 • Tonopah, NV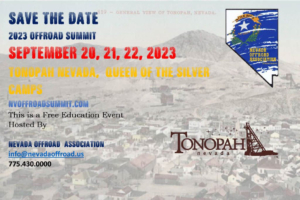 Here is what you need to do (and know):
Mark your calendar for September 20-22, 2023
Look for a Registration email from NVORA on August 1st
Fill out the registration form when it arrives in your inbox
There will be a coordinated trail ride scheduled on the 21st
THIS IS A FREE EDUCATION EVENT hosted by the
NV Offroad Association
We are looking forward to seeing you in Tonopah this year!
Sincerely – the NVORA Team
The 2023 Brett G Palmer memorial freedom run September 30th 2023 • Smith Valley, NV – Poker Run 2023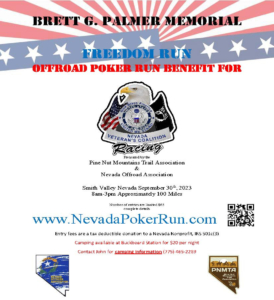 The Nevada Offroad Association, Pine Nut Mountain Trails Association, and the Nevada Veterans Coalition, will be hosting an event to fundraise for the Nevada Veteran's Coalition Racing, and PNMTA in honor of the memory of Brett G. Palmer.
BOE Fun Run – October 14th
On Saturday October 14th I'll be leading a BOE fun run. The plan is to depart from the Beatty community center at 10:00am. The route will take us over to the hill west, past the sheriff's office to the previous course used by the Legacy race group where we will proceed south for approximately 14 miles. We will then turn westward and follow Indian Pass Road, through Indian Pass and continue to the end where we will find an old mine site and other possible points of interest.
After our pause we will backtrack on Indian Pass Road but instead of going north on the racecourse we will continue eastward until reaching, and then crossing US95 and traveling along the Saga mine road, past the Saga mine and the Monolith mine. We'll continue this route until we make a left turn and travel up Tarantula canyon, past Specie Springs and over Secret pass to Degerstrom Road and back to Beatty.
Please refer to the second sentence above and notice it starts with, "The plan". Everyone naturally desires for "plans" to be successful; however, considering the recent heavy rains there is always a chance this plan may have to be adapted along the way. I have recently traveled all of the route except for Indian Pass Road. So, that is the unknown part. I am hoping we can traverse all the way to the end. I must tell everyone that the part of the route through Tarantula canyon to the top of Steve's pass is quite rugged and might be a little sketchy in a few places but who doesn't like a little excitement? It'll be fun. 
Finally, please make sure your vehicle of choice is in sound mechanical condition with everything in good working order. Check fluids including oil, engine coolant and battery. Be sure tires are in good condition and properly inflated.
Bring beverages and lunch. 
We will take periodic breaks, so no one will get too bored just driving along. Let's all take care to make this a truly fun run and I look forward to seeing you all on the 14th.
By the way, we will also be in the path of an 80% solar eclipse on that day during our ride. Pretty cool, huh?
Hump n Bump – October 19 – 23, 2023
Vegas Valley Four Wheelers – Details can be found at – humpnbump.com
Beatty Days parade – October 28, 2023
Line-up 9:00 am at the Old Lions Club building